ELK'S CREED
Believe in the goodness in thyself as well as in others.

Protect childhood with tenderness, old age with respect, cherish with reverence the memory of those who have passed.
Observe faithfully the golden rule.
Enjoy the good things of earth. Keep within thee the Glorious shine of youth and remain always of good cheer.
Announcements
See Cash Calendar Winners!
Jolly Corker Pub
is open for lunch starting at 11:30 Monday-Saturday.
Now also serving light suppers!
Sunday, March 4th & 18th, 2018
Teen of the Year Awards Programs
2:00 pm @ Lincoln Lodge #80
Local middle school best all-around students honored for their accomplishments.
Saturday, March 17th, 2018
St Patrick's Day Dinner
5:30pm Cocktails
6:30pm Dinner
Corned Beef Brisket, Cabbage, Potatoes, Carrots, Rye bread and Ice cream for dessert
Tickets: $13.00 per person, $24.00 per couple. Seated limited to the first 128 diners.
Saturday, April 7th, 2018
Fish Fry
5:30pm Cocktails
6:30pm Dinner
Fried Pollock, Homemade Baked Beans, Coleslaw, Pickle Spears, Rye bread with Brownies and ice cream for dessert.
Sponsored by the Friends of the late Rick Logan
Donate to Elks National Foundation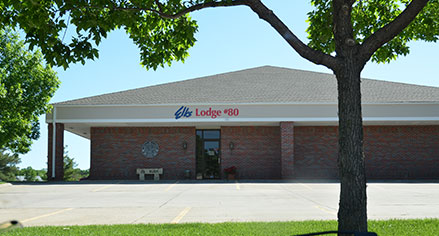 Esteemed Leading Knight
As I write this, I am moving on to the Exalted Ruler's station. I am looking forward to the new year, it will have some special challenges! We are in need of some officers to fill some vacant stations. If you would like to get more active in the Lodge, this could be your chance to expand your horizons, help your Lodge, fellow officers, and community to be the best they can be. Up-
coming in March, St. Patrick's day dinner. Be there or be
a leprechaun with no pot of gold to share with the

So as always, get active, go to the dinners and just have fun.

Troy Pedersen
Leading Knight

Esteemed Loyal Knight
Dia duit conas atá tú (This is a real statement!)

Since I have been permitted to bloviate to you via these monthly articles I have tried to provide some in site into the positions I have been associated with plus provide some history as to why the months are what they are.
March in ancient Roman Times was the 1st month and March 1st was New Year's Day. Malcom McPherson Jr. Stated in his monthly address to all of us "March is a time of change" for all of us. We just elected out new officers Congratulations go out to Troy Pedersen our new Exalted Ruler and all our newly elected officers.
The Month of March is also known as the beginning of spring where we are or the beginning of fall down below. This year's Spring Equinox is Tuesday, March 20. This is a day that I will be looking forward to.

March is also known for Girls and Boys state basketball in our Fair State
Please Mark your Calendars for these dates:
March 11: Daylight saving time begins
March 15: Ides of March
March 17: St. Patrick's Day and our Annual St Pat's Dinner, this is a great way to spend some time with your fellow ELKS. Its always a great time the food is iontach (Fantastic)

In Closing please remember "We are a Fraternal Order that was founded "To promote and practice the four cardinal virtues of Charity, Justice, Brotherly Love and Fidelity; We are to promote the welfare and enhance the happiness of its members; to quicken the spirit of American Patriotism and cultivate good fellowship."
We are a very unique, special and dedicated group of individuals. I think in this month of March lets remember that. Let's celebrate that. We are 151 years old now
We will be seeing you around the lodge! Oh, Hi and how are you? Is the first statement I made at the beginning of this page And Go raibh míle maith agat! That's for you to decipher.

Harry Montag
Loyal Knight

Esteemed Lecturing Knight
The Lecturing Knight message is not available at this time.